Today, we are lucky to have Tara of Sew Tara with us! She has been here before during Back to School Month with this DIY clipboard makeover:
I love how organized she is! Check out how she keeps her Washi tape in check!
Here's Tara with her creative (and tongue and cheek) take on a catnip filled plushie for your cat!
__________________________________
Hello I'm Tara from SewTara and with loads of crafty supplies and some cats in the house I thought up this fun DIY craft that the feline in your life will appreciate. This project can be hand-stitched or made with a sewing machine. It's also very scrap friendly and you should be able to find all these supplies in your crafty cupboard.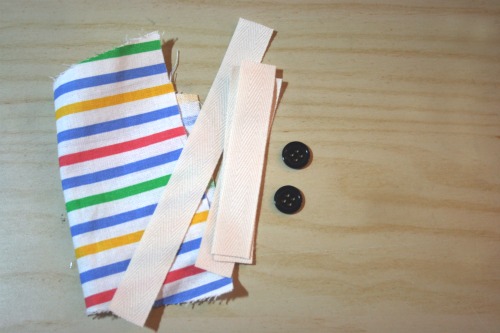 You'll need:
- fabric scraps
- ribbon (cut in 4 pieces, one 6 inch and 3 3 inch pieces)
- stuffing (polyfill or scraps cut up really tiny)
optional
- 2 buttons
- catnip
First cut out a head and tail shape from your scrap. Sew around leaving a small opening for stuffing.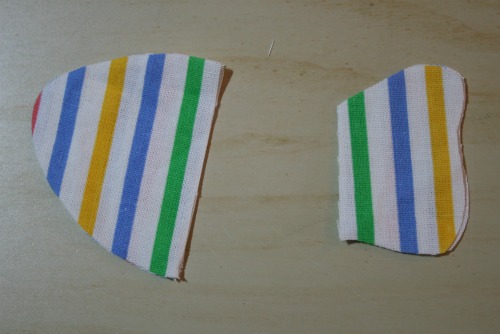 I cut up a small scrap of flannel into tiny squares to act as filling. Stuff the head with filling and add your catnip. Tuck one end of the long ribbon piece into the opening and securely attach it with hand stitches or using your zig zag stitch.
Sew the tail piece leaving a small hole for stuffing. Stuff it and attach the ribbon just like you did for the head.
Tie the smaller pieces of ribbon to the fish 'body' so they look like little bones.
Sew the buttons on the head for little x'ed out dead eyes.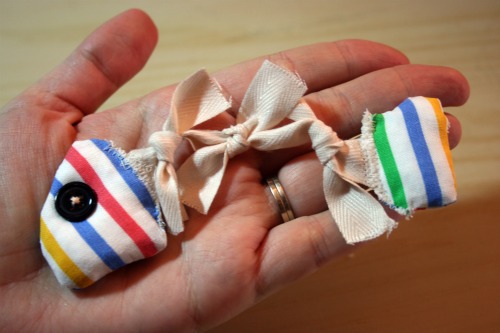 Ta Da! All finished. Now toss the toy to your favourite kitty and sit back to enjoy the silliness.